SERVICE: USA, 2010 – Ukraine, 2017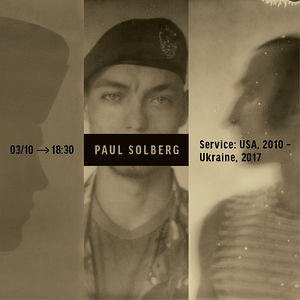 The exhibition features portraits of American and Ukrainian military service men taken in 2010 and 2017 respectively. The series stems from Solberg's fascination with the old Polaroid films that start to vanish soon after the photograph was taken, and his encounters with U.S. Army veterans on the streets of New York on the Veterans Day, November 11, 2010. For the photographer, disappearing Polaroid images resonate with the way military service is perceived in the society. Soldiers who put their lives on the line are often left unnoticed by the civilians or denied the importance of their service. Moreover, veterans frequently face stigma after discharge and experience problems with re-socialization and return to normal life. Like their evanescent Polaroid portraits, the soldiers lead a ghostlike existence in their homeland.
Seven years after the New York session, Paul Solberg found the same anguish and precarity in conflict-stricken Ukraine. The photographer's response was, naturally, to invite Ukrainian veterans to a photo shoot and listen to their stories. This way, Solberg created a situation where military service men were once again given an opportunity to open up in front of the camera and reach out to other people.
In the show, photographs go along with short interviews of the Ukrainian military service men who participated in the photo shoot.
The photo shoot in Kyiv wasorganized in collaboration with the Charity Foundation Good Scope and with the support of Lightfield productions photo studio.
Artist:
Paul Solberg
Curator:
Kateryna Filyuk