NEW YORK STORIES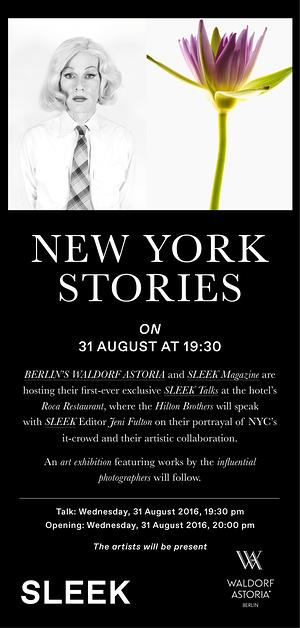 New York Stories is an intimate selection of works which most exemplifies the Hilton Brothers relationship with their hometown and the artistic interation between NYC and Berlin.
From Makos Mick Jagger portrait to Solberg's portrait of Ai Weiwei. Both icons captured were outsiders in New York, yet became very much New Yorkers in their renegade spirit.
The Hilton Brothers "Andy Dandy" series is also featured. Makos portraits of Andy "altered" suddenly becoming whistfiul and contemplative in combination with Solberg's flower portraits.
The artists and curator felt these selections were the perfect levity to Summer in Berlin.
WHERE: Waldorf Astoria, Berlin
WHEN: 31 August 2016
TIME: 7:00PM