1OUTSIDE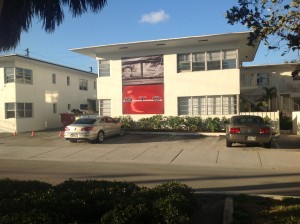 Captured by the Huffington Post, photographed for WWD, quoted in Moscow's Interview magazine and
talked up in OUT, The Hilton Brothers are, as they say, a phenom. What began as a casual collaboration
between two prolific photographers became a Manhattan studio jammed with works in progress of every variety. And while their work as individuals is remarkable, when Christopher Makos, (circle A) and Paul Solberg, (circle B) link up, the overlap, (subset C) is magic.
The first set of diptychs we saw from this Makos/Solberg collaboration was in 2006, when they began producing a series of 20 side-by-side prints for a portfolio they called
Hippofolium. These stunning combinations were created when the series
Equipose in which Makos examined horses in a totally unexpected manner was
married to brilliant, extreme close-ups of flowers from Solberg's Bloom portfolio. I published a selection from Hippofolium in an earlier set of magazines I ran at the time, HOME Miami and HOME Fort Lauderdale. Hippofolium's inclusion made each of those issues fly off the shelves, turning them into instant collector's items.
In recent years, The Hilton Brothers have exhibited in Paris, New York, Marbella, Tokyo, Berlin, Madrid,
Barcelona, Los Angeles and elsewhere. It's really no wonder. The pieces are vibrant, saturated and above all, accessible. There is something unique in the idea of long-term collaboration, in the words of Solberg, "It is about separate, competing visions becoming one." Makos came to the table knowing a bit about collaboration, having worked alongside the guru of accessibility, Andy Warhol for years and ---- having been there myself to witness their interactions ---- it is fair to say something good rubbed off in both directions of that relationship.
Tropic recently contacted Solberg and Makos to propose an exhibition of their work in South Florida, and, with the help of the team at Fort Lauderdale's North Beach Village, it morphed into an exhibition like no other. The results of these discussions became a show called
Ten Outside, an outdoor exhibition of ten billboard- sized diptychs to be mounted in March in a collaboration with North Beach Village and the Museum of Art | Fort Lauderdale and their new
Foto Fort Lauderdale series, presented by Stiles. On the following pages is a selection of their work. More information on the opening of this upcoming exhibition is on our website, www.ModWeekend.com